Soul Reaper
Soul Reaper Now Available on Steam!
---
Do my eyes deceive me? Is today finally the day?! …IT IS! It's February 4th, and Soul Reaper has launched onto Steam Early Access!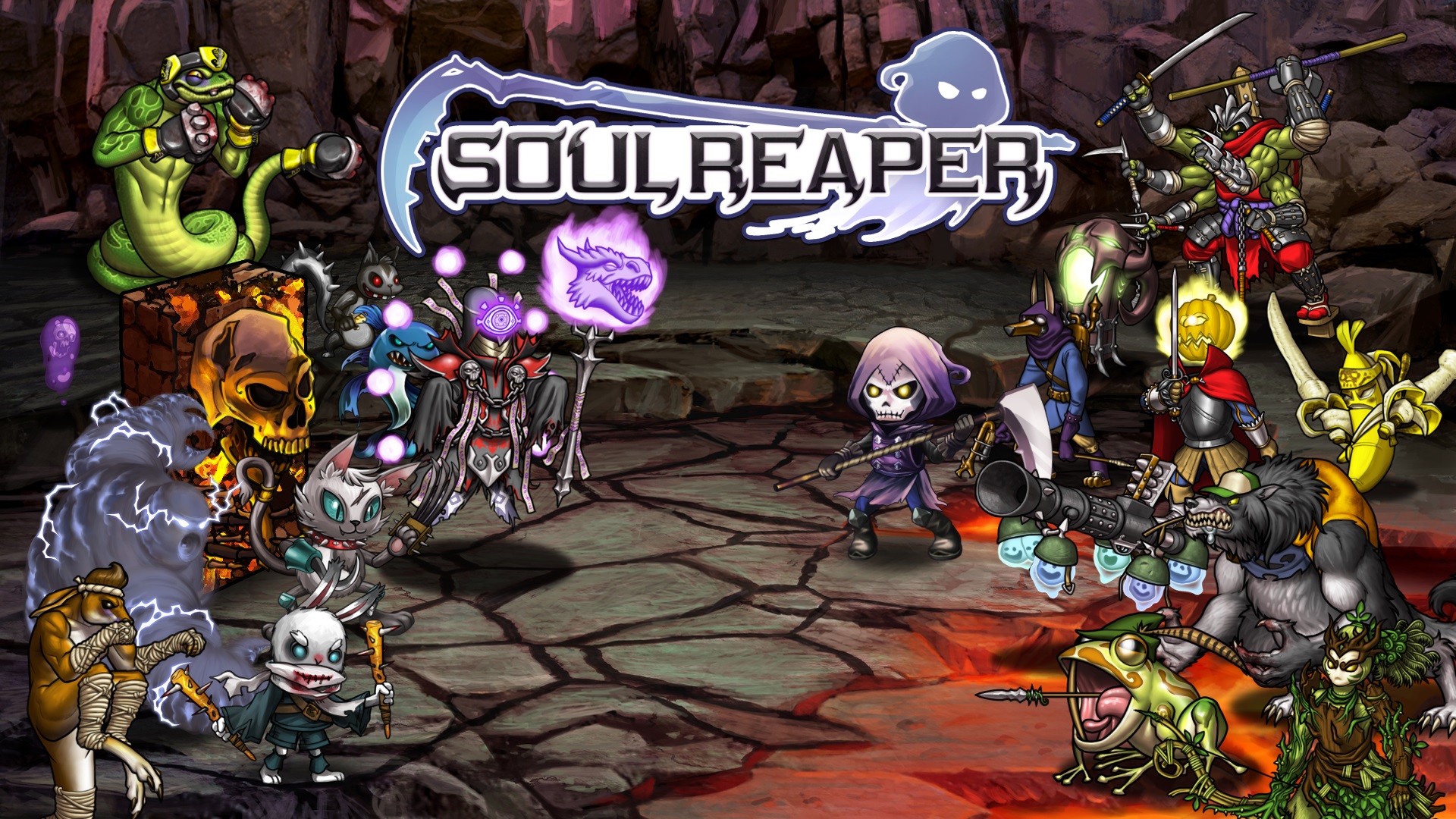 No one shatters the Soul Reaper's psyche and gets away with it! Stand strong, and take back what's yours!
It's been an absolutely wild ride, and we're unbelievably ecstatic to announce that the game we've been working so hard on is finally available to purchase! Truly, dreams can come true!
I'm so happy, I could cry… But I won't! I promised the family we'd be going fishing in the Elysium lakes, and there's no time for cutting onions! It's a big day for us Stabbytabbys too, and we take pride in our impeccable skewering techniques. …What? What do you mean you've seen Reefraffs swimming in lava? …But I can't fish in Volcanheim! I'm a cat!
Bah, enough of my rambling! There's plenty of things to discuss; it is launch day after all!
Available Platforms
Soul Reaper is ready to go for Windows 10 systems, and you should be able to grab it from our Steam page right away!
In our previous Dev Blog, we mentioned that the Mac build of Soul Reaper would need to undergo an additional notarization requirement outlined by Apple. We weren't anticipating this additional hurdle, and as a result, needed to postpone the Mac release temporarily. Much of Soul Reaper was coded using Mac laptops, and it pains us to know it won't be launching alongside the PC release. We deeply apologize for the inconvenience, and as a consolation, we'll be extending the Mac version of Soul Reaper's Open Beta.
We're working hard to get the Early Access version ready for Steam, and we expect it to be available within the coming weeks!
Arm Yourself With Knowledge!
Before you embark on your soul reaping adventure, there's a few key things you should know!
Our Ghostly Friend, The Tutorial Dude
The world of Soul Reaper is populated by a wise, old specter! Speak to him if you'd like to learn more about the game and its intricacies!

Guides by The Man Himself
The project lead, Danny Forest, has written several detailed guides explaining how users can harness the game's more in-depth mechanics! For tips on leveling, loot, and more, check out our Guides section here! (They were based on older builds, but most of the information still applies quite well!)
A Split Personality
The Soul Reaper has suffered a psyche-shattering injury that's caused his emotions to break apart from his body! Recollect yourself by defeating the impostor Soul Reapers, and select which Reaper Fragment you'd like to equip! You can get some pretty humorous conversations going depending on which Fragment you use, and you'll even apply some neat stat bonuses too!
Super Effective Attacks!
Water beats Fire, Fire beats Earth, Earth beats Wind, and Wind beats Water!
Light and Dark deal massive damage to each other, while Poison and Physical (Neutral) have no inherent weakness or advantage!
Small, element icons appear near each unit's health bar to indicate which type of monster you're looking at. If you ever need a refresher on which element to use, you can always reference the elemental color wheel that appears when combat is paused!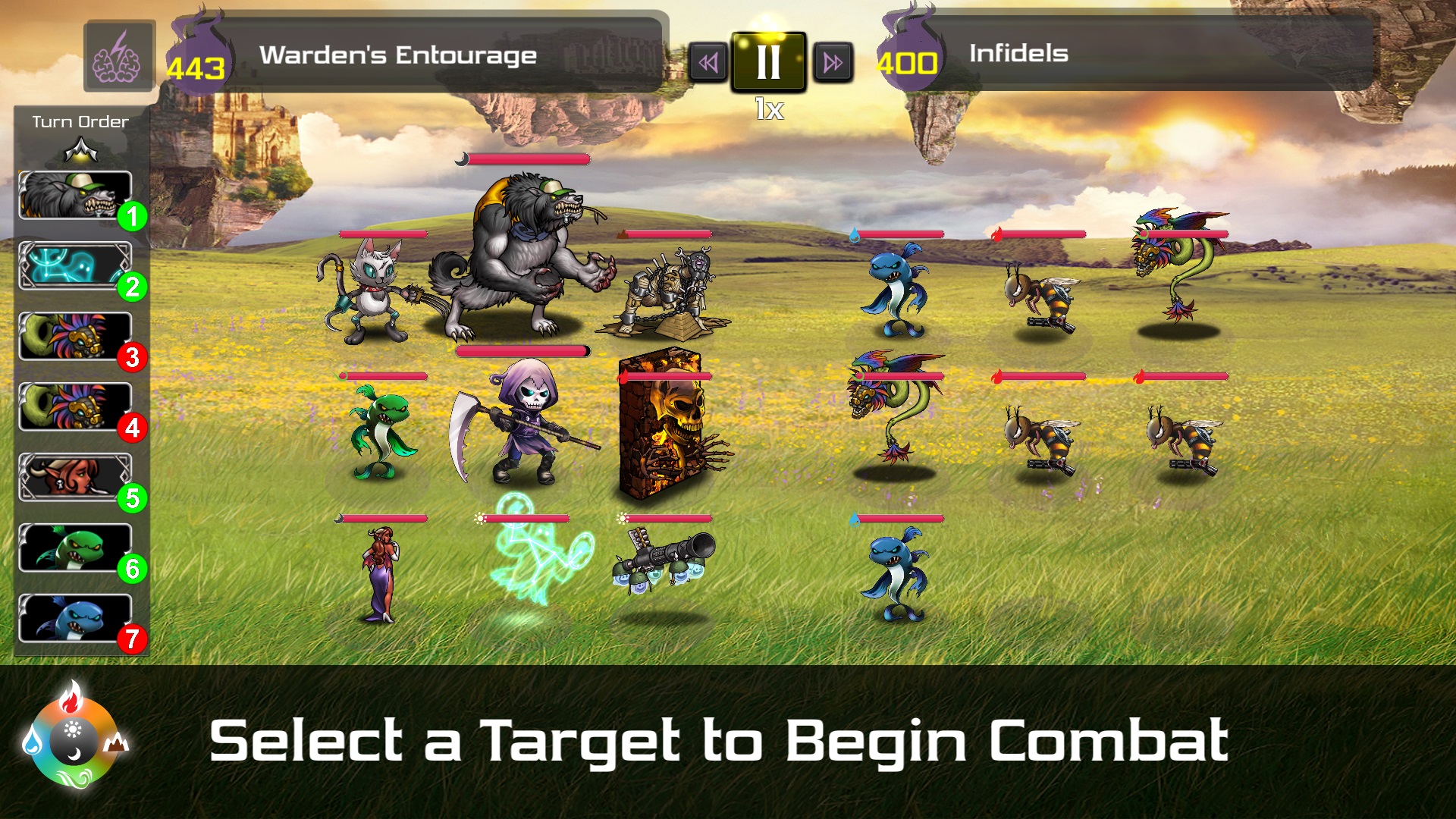 Check the bottom left icon for the elemental diagram! (Effectiveness in clockwise motion.)
The Utility of Souls
Souls can be:

added to your combat squads to fight in battle!
fused with other souls to boost their levels!
devoured by the Soul Reaper to increase his XP!
slotted into equipment for additional bonuses!
smithed into loot pieces by Percie!
There's no right or wrong way to use the souls you've collected! Allocate them as you see fit, and find a method that works best for you!
The Masked Twins
Vipo (the smiley one) and Vypo (the frowny one) are committed to helping their boss however they can! While they don't accompany the Soul Reaper on his travels, they each have an important role to fill back in The Void!
Vypo keeps tabs on The Midnight Council's lieutenants, and will give you directions to the next boss fight! Speak with him if you're ever stumped as to where you need to go next.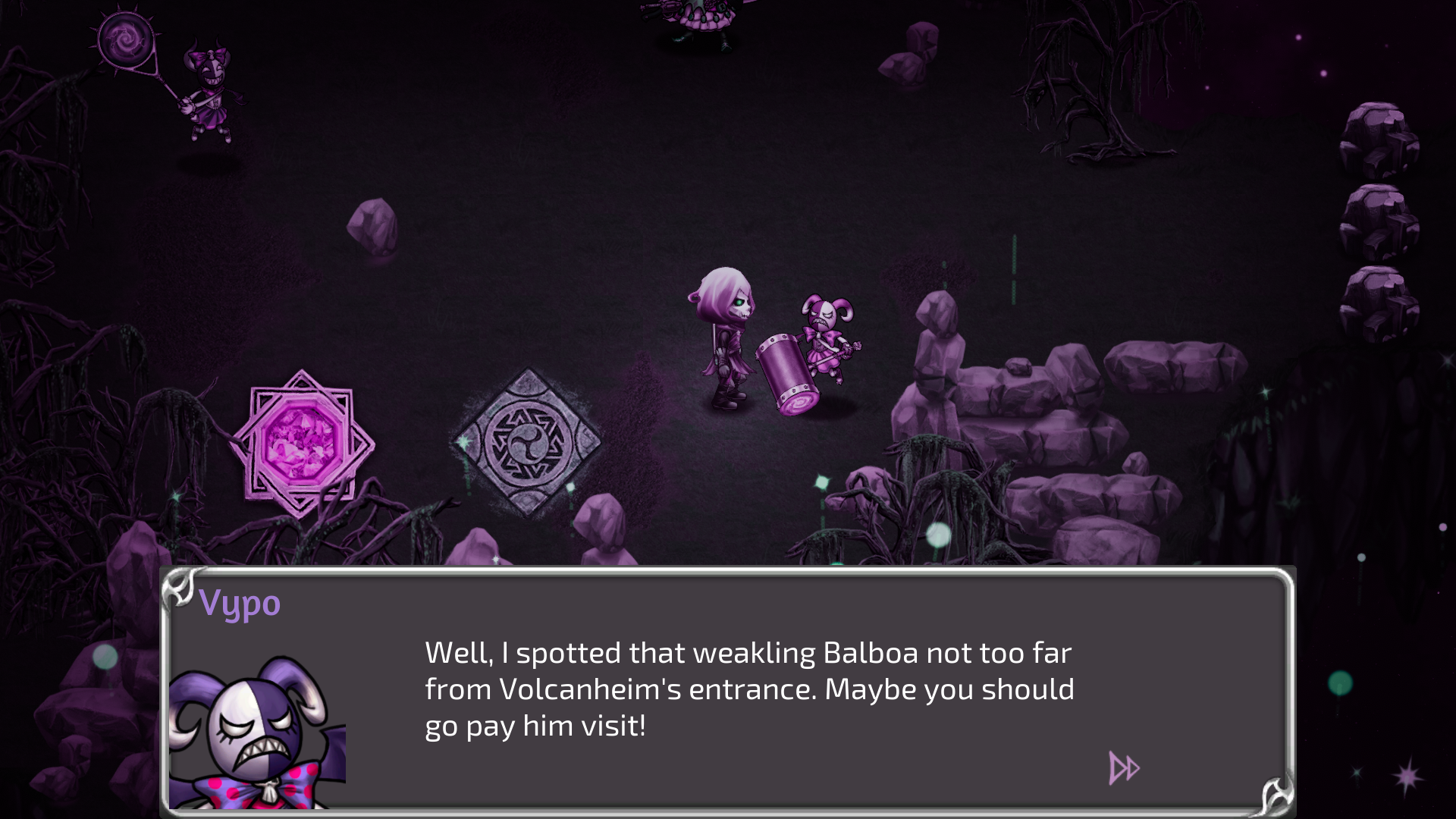 For someone so frowny, he sure is happy to help!
Vipo, on the other hand, will grant rewards based on how many Feats you've accomplished! Feats are tasks you can complete (Ex: Reap 100 souls), and they unlock some pretty nice prizes! Speak with her frequently to see what souls or items you can receive!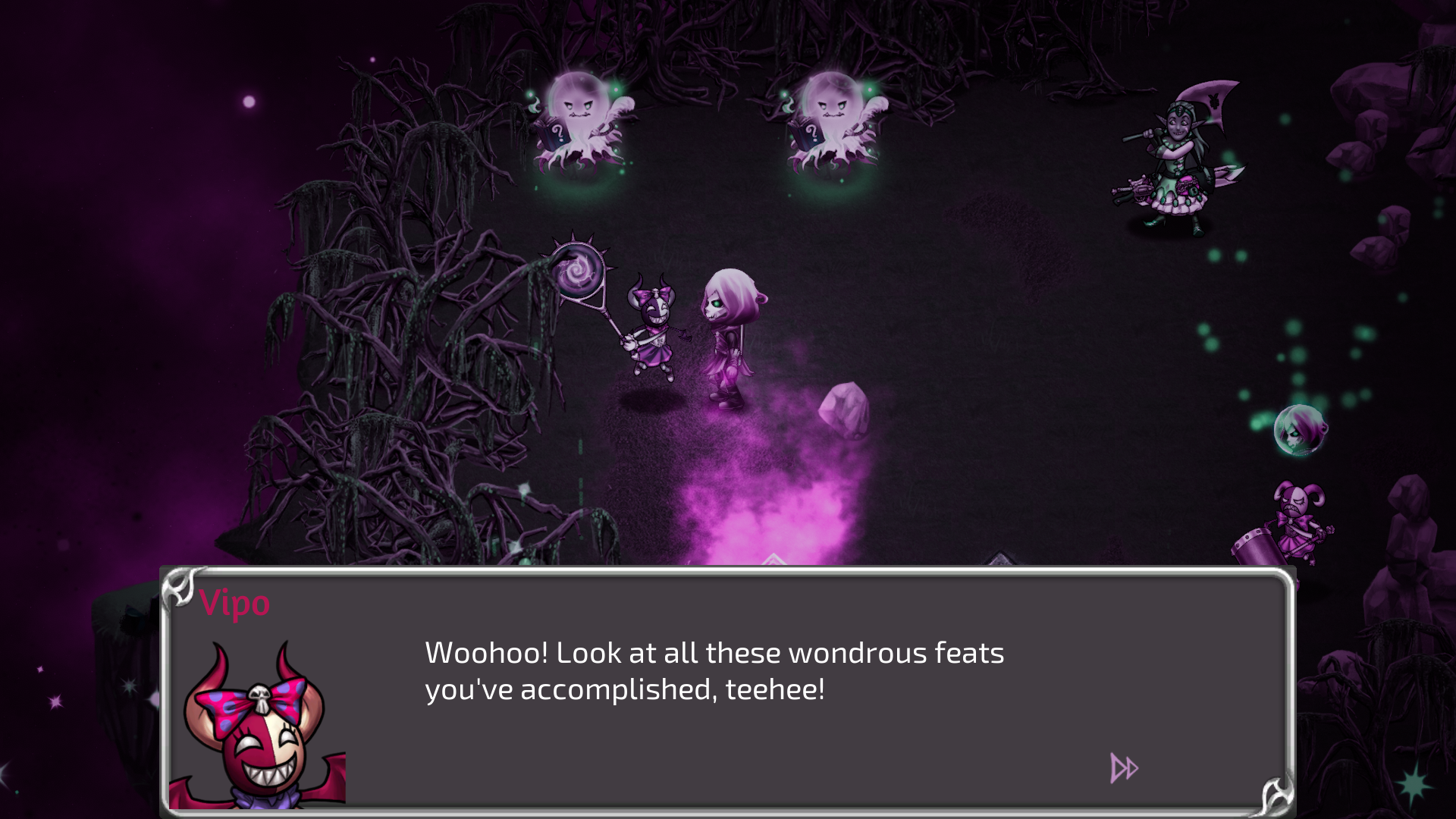 Time to reap the rewards of… Well, reaping!
Join in on the Conversation!
Player feedback is critical to both the development and success of Soul Reaper! If you've encountered a bug, feel free to use our Bug Reporting Form to shoot a message directly our way! (List of currently known issues will appear here!)
In addition, you're more than welcome to share your opinion on our Steam Forum or Discord! Let us know what you think about the game's balance, drop rates, or anything, really! We can't make Soul Reaper the very best it can be without the input from the community, and we're super thankful to all those who have supported us throughout the Open Beta! Keep the recommendations coming, and our build updates will continue to improve!
Frequency of Updates
We're currently aiming to provide updates to the Early Access build every 30 or so days! Changelogs will be featured in coinciding Dev Blogs, and will be presented much like how they were for the updated builds of the Open Beta.

Twitch Box Art!
Some of you may recall the mention of Soul Reaper's entry on Giant Bomb. This was done around the time of our Halloween Dev Blog, and let Soul Reaper appear in Twitch's directory! Recently, Danny Forest had submitted a box art icon for the game to appear beside its name!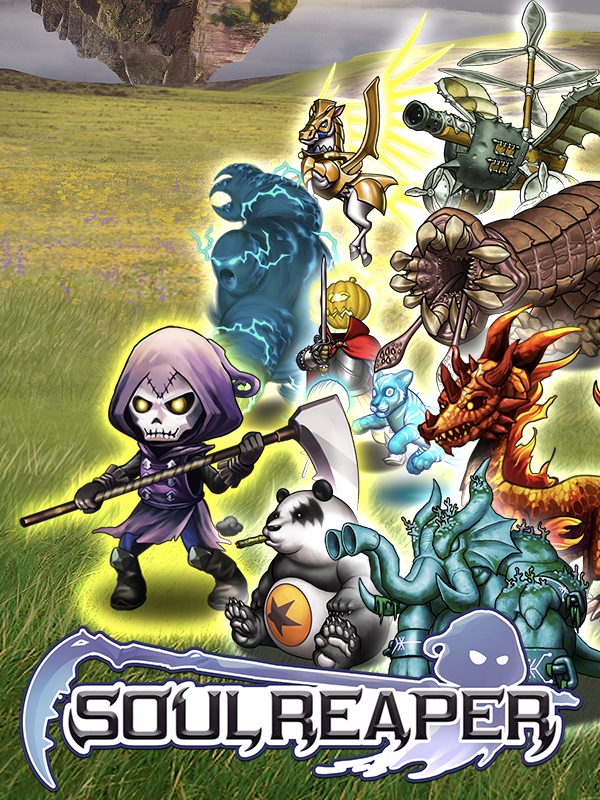 Three bosses on your team? The Soul Reaper isn't pulling any punches!
With this, everything should be good to go on Twitch! Feel free to stream Soul Reaper to your heart's content, and follow the category to get notified of new streams!
A Picture is Worth a Thousand Words
Defeat a tough boss battle? Find some wicked loot? Why not take a picture using Steam's screenshot feature, and be the first to populate the community tab for Soul Reaper! We'd love to see any legendary drops you've picked up from battle, or some awesome squad arrangements with your monsters!
The Future of Animation Previews
Last week, we had an incredible amount of animations featured on our social media! The response has been exceptional; people really like watching our creatures in motion!
All of the monsters you've seen thus far have been programmed into the game, and you'll be able to see each creature in action with the Early Access build! Despite there being little secrecy about our monsters left, our followers seem to quite enjoy the previews we've been posting! With this, you can still expect to see monster animation previews uploaded every so often! We're super happy to know the crowd loves the way they move, and without further adieu, here's the roundup from last week!
This tiger used up all its nine lives, and it's still around? That yarn ball must be something special!
The Kickpuncharoo is a kangaroo proficient in several martial arts. Those bruises aren't just for show!
It's the Soul Reaper's assistants, and that mortal he likes! Speak to these allies in The Void, and they'll be happy to lend you a hand!
The Herald! He was sent to "take care of" the Soul Reaper, and exists as part of The Midnight Council.
The skeleton himself! The Soul Reaper is Warden of The Vault, and takes great pride (and pleasure) in his work!
Follow Us!
Wow, that was a big update! I could keep going and discuss things like Soul Gear and Artifacts, but I don't want to talk your ears off! We'll list our social media links below if you'd like to stay tuned for further updates, and with that, we hope you enjoy Soul Reaper! Good luck out there! May you reap the bountiful rewards of The Vault, and may the RNG deities forever smile in your favor!
Steam: https://store.steampowered.com/app/1163660/Soul_Reaper/
Facebook: https://www.facebook.com/powerlevelstudios/
Twitter (Studio): https://twitter.com/PowerLvlStudios
Twitter (Game): https://twitter.com/SoulReaperGame1
Instagram: https://www.instagram.com/powerlevelstudios/
Discord: https://discord.gg/erupmSD
YouTube: https://www.youtube.com/channel/UCsQjuCHRCZ1w1fA88zfukhg/
GameJolt: https://gamejolt.com/@PowerLevelStudios
Medium: https://medium.com/power-level