Soul Reaper
Soul Reaper - Ver. 0.1.1 Underway!
---
Whew, we have been busy!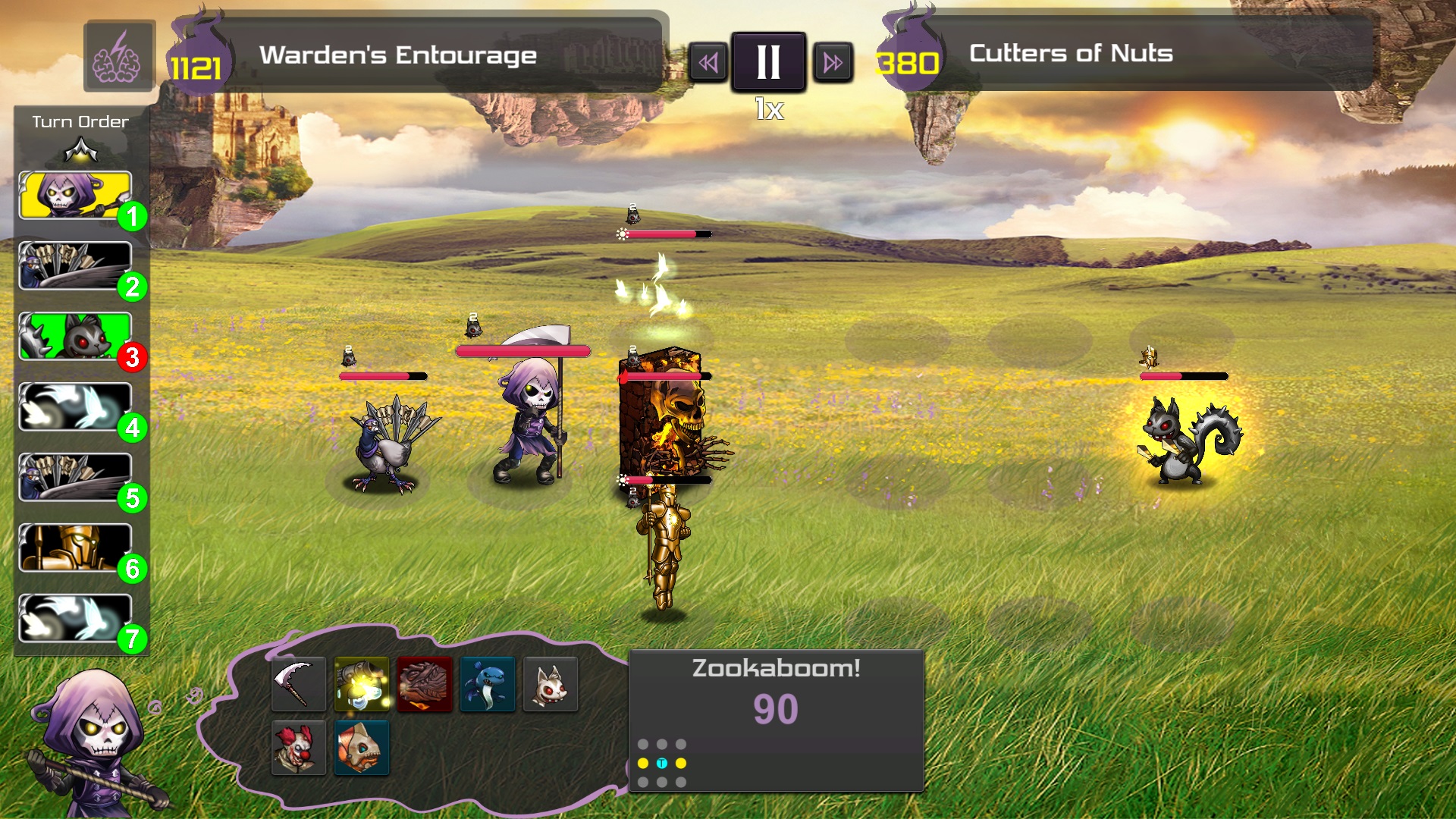 So busy, in fact, that even the Soul Reaper is putting in work! He now joins the fight in the tutorial sequence, and has been given several new souls to play with!
Soul Reaper entered Early Access back on February 4th, and we've been working around the clock to make sure that those sharing their first impressions are heard. We've been receiving feedback through our Steam Community, Discord, Bug Reporting Form, and even playthroughs on YouTube! We've learned a lot about what needs adjusting, and the reception has helped us shape our next big update: Version 0.1.1!
Accessing The New Build
There's a lot of changes featured in the new version; so much so that we'll be releasing it as a Beta branch on Steam. While there are plenty of improvements in 0.1.1, it's possible that by introducing so many changes at once, other oddities may spring up alongside the fixes. We're still testing the new build to make sure that everything is working smoothly, but in the event users take issue with the updated version, they can hop right back to 0.1.0p1! Players will have a choice to utilize the new build by accessing the "Betas" tab under Soul Reaper's Steam properties. (Right click the game in your library, then select "Properties..." to find the tab.)
Version 0.1.1 will remain in Beta for up to two weeks before entering the main branch (and replacing 0.1.0p1 in the process). Give the new build a try, and let us know what you think!
0.1.1 Changelog
This is a big one, and it's all thanks to you! Community feedback has been vital to Soul Reaper's success, and we hope you enjoy these changes!

Addressed an issue that would cause Bunippys to remove their targets from the Turn Order Table.
Revised the intro sequence to have less dialogue. Soul Reaper is now a squad unit in the tutorial Nuttercutter fight, and also has access to different souls.
Fixed collision on Soiloth's vines in Volcanheim 19: Volcadillo Crater.
Added the ability to teleport back to The Void from anywhere! Hit the "T" button on the keyboard, or "Y" button (XBox controls) on a controller to warp.
Removed bush in Volcanheim 9: Cardinorclan that prevented users from passing.
Fixed an issue where units would target the wrong enemy on the first turn of battle.
Fixed an issue where the Minimap would incorrectly display after using a teleporter.
Fixed several UI oddities where buttons would grow or shrink to disproportional sizes. Also fixed an issue where Soul Reaper's HP Bar would obscure the bottom portion of the screen.
Made several changes to grammar and spelling in dialogue/menus.
Soul Reaper now runs a little faster! (Speed increased by 20%.)
Scramrocks can now properly flee from battle.
Scramrocks were too difficult to kill in the previous version, and now scale more appropriately with each area.
Upon defeating the Arrogant Reaper while Soulless, the change will now be immediately reflected in the menu (as opposed to still being Soulless with no damage bonus).
Collision of several background objects have been adjusted to not overlap creatures/Soul Reaper on the foreground.
Area titles no longer display in the intro.
Certain areas now display the game's controls on the bottom of the screen.
The collision hitbox on the Lumareous is now larger, making it easier to enter a fight.
Fixed an issue where users could not mouse over the rightmost souls/treasure on the Victory screen in Polarus.
Combat speed should now increase/decrease by intervals of 0.5x.
Fixed an issue where tooltips during squad management would permanently remain while highlighting different buttons. They now disappear after 4 seconds.
Returning to the Title Screen no longer causes music tracks to overlap.
The pushable boulder in Volcanheim 6: Double-sided has been replaced with a Balboa boulder.
Artifacts now work in conjunction with Soul Reaper!
Players can now skip pages with the keyboard when speaking to the Tutorial Dude.
Boss music no longer plays over regular fights.
We took a lot of notes over these past few weeks, and there's still plenty of great suggestions we're going to try to implement. In the meantime, we hope you enjoy the additions made to Soul Reaper's newest version!

The Secret of Scramrocks
Last week, we ran a mini-series highlighting Soul Reaper's most elusive creature: the Scramrock. They're 4-Leaf Clovers hidden throughout the game that offer massive XP boosts if utilized correctly. If you're looking to pump up your boss monsters, Scramrocks are definitely the way to go!

Part 1: What are Scramrocks, and where can you find one?
Part 2: How to get hundreds of XP points by fusing!
Part 3: Other spawn locations, and an amusing piece of Soul Gear!
There are far more spawn locations than just the three showcased here! Remember to jot down your encounters, and see which area provides the best farming spot! Good luck!
The Animation Sensation (Poisonous Anubis and Cute-But-Deadly Supermodel Edition)
After a busy launch week, we've found a moment to squeeze in a few more animation previews! Check out the crafty Carnubis and the charming Demonatrix below!
The Carnubis rolls for a chance to instantly one-hit kill an opponent! I wonder what chemical he carries…
The Demonatrix can charm her opponents, preventing them from dealing damage! Encountering her heart kisses in The Vault will temporarily freeze the Soul Reaper in place!

The First Impression Session
As the word of Soul Reaper grows, so to does its playerbase! In fact, it's grown large enough that YouTube has auto-generated a category for us on their platform! This section has introduced us to plenty of amazing first impression videos, as well as a number of really cool overviews and Let's Plays! Feel free to tag your Soul Reaper videos appropriately, so that they can appear in this category too!
Follow Us!
That about wraps things up for this update! The feedback we've been receiving continues to shape our work for the better, so please don't hesitate to share your opinion with us! Our Discord and Steam Community are the easiest ways of making your voice heard, but feel free to reach out to us via any of our social media links below! Stay tuned for further updates, and we'll see you fine folks next time!
Steam: https://store.steampowered.com/app/1163660/Soul_Reaper/
Facebook: https://www.facebook.com/powerlevelstudios/
Twitter (Studio): https://twitter.com/PowerLvlStudios
Twitter (Game): https://twitter.com/SoulReaperGame1
Instagram: https://www.instagram.com/powerlevelstudios/
Medium: https://medium.com/power-level
Discord: https://discord.gg/erupmSD
YouTube: https://www.youtube.com/channel/UCsQjuCHRCZ1w1fA88zfukhg/
GameJolt: https://gamejolt.com/@PowerLevelStudios