Soul Reaper
Soul Reaper - Ver. 0.1.2 Now Playable!
---
We're back again, and even sooner than expected!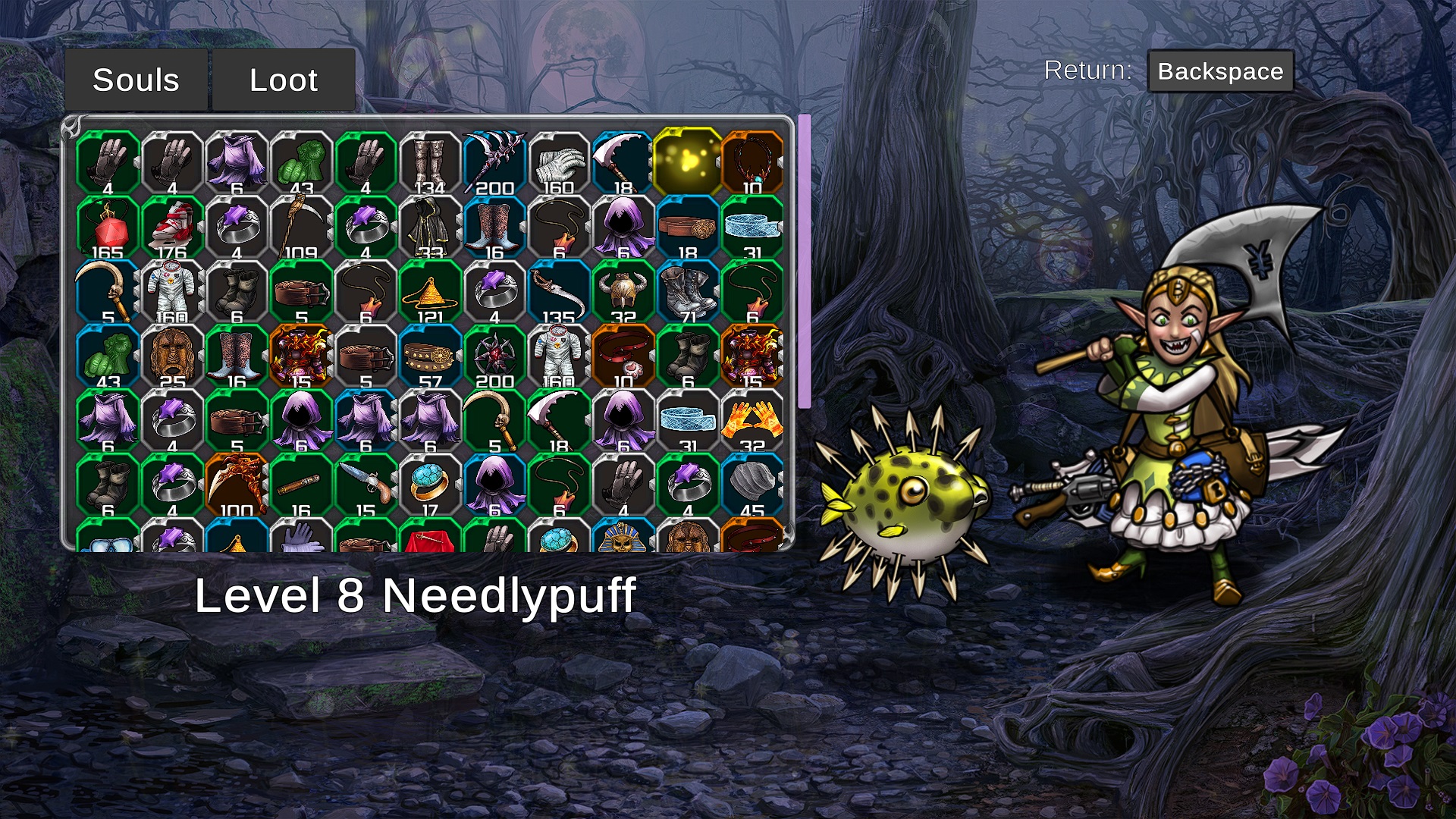 Percie has reached new heights with her craft, and can now smith pieces of loot into souls! It takes some serious skill to create life from inanimate objects!
The feedback we've been receiving from the community has been tremendously helpful in shaping Soul Reaper's updates, and we can't wait to show you what the newest build includes! Version 0.1.2 has been pushed to the main branch on Steam, so you'll be prompted for an update next time you launch the game!
0.1.2 Changelog
There's been a plethora of improvements since the last version, so get ready for another huge list of changes and features! (This will also include anything added in the smaller patches made to 0.1.1; it took Danny Forest and I a while to compile this one!) Without further adieu, here's what's new!
Fixed an issue where Agility Stat Points would reset on save. In addition, a Stat Point Reset Station is now located in The Void! You can now reallocate the Stat Points assigned to Soul Reaper.
Percie now guides the player through a new tutorial sequence in the intro!
Vamprince's HP and overall effectiveness has been buffed.
Alchemutant dialogue now correctly acknowledges currently equipped Reaper Fragment.
Percie can now smith loot into souls! The higher a loot's level and rarity, the stronger the soul!
Minimap background is now more transparent, making terrain easier to see.
Added a message that appears at the end of combat notifying players if their soul inventory is full.
UI updated in several areas of the game to better explain controls to the player. UI showing button layout will now change if user has a controller plugged in.
Added new UI effect to show which unit or button is highlighted in combat.
Vipo now has an indicator above her head when new feats are available to claim.
Collision on paths in The Void have been adjusted to make it easier for Soul Reaper to progress as intended.
Some locations are now inaccessible until certain bosses have been defeated. Defeating Soiloth will unlock Elysium, and Jeff, Polarus.
Igloo in The Void now properly displays treasure information.
A teleporter leading to a dead end in Elysium 34: Champion of the World has been removed.
Several Cyclord jumper feathers have been added to Polarus 21: Bridging The Gap.
Nuttercutters are now weaker in the tutorial fight, allowing Soul Reaper to survive even if all three exclusively target him.
Soiloth vines in Volcanheim 10: Four Horns and Volcanheim 5: Love is in the Air have had collision adjusted to allow for easier traversal.
Using the Spacebar during fights with dialogue will no longer cause units to attack while NPCs are speaking.
Tutorial Panels no longer carry over into combat when triggering a fight while speaking to a Tutorial Dude.
Debuffs and Buffs cast on Soul Reaper no longer persist from fight to fight.
Music in intro cutscenes no longer overlap.
Soiloth's total HP has been reduced by half.
Ice Shards blocking path to final boss have had their collision adjusted.
The level up screen for Soul Reaper now displays the proper amount of Stat Points received.
Percie's sprite no longer appears underneath background objects.
Enabling the Auto-Start Combat features in the settings menu will no longer cause battles to end immediately, or prevent monsters from initiating combat.
Squad balance for monsters in Polarus 16: Far Far Away and related areas have been adjusted.
Path leading to Stalagsaurus has been changed, making for quicker travel.
Terrain in Polarus 23: Danger Zone has been altered to reduce amount of Cyclord jumper feathers needed to descend the main hill.
Players can no longer accidentally use the Vamprince's bat ability from beneath the ledge in Elysium 5: Lushy Dangers.
Soul Reaper's Stat Points no longer reset upon New Game+.
Fixed an issue where some SFX in battle would play quietly (or not play at all).
Delete and New Game+ buttons now function correctly on the file select menu.
Alchemutant is now more powerful in his boss fight.
Elephount is now more powerful in his boss fight.
Fixed an issue where Soul Reaper wasn't able to cast buffs correctly.
Speaking to the Salagsaurus while Arrogant will no longer spawn a differently-styled text box.
Improved Vypo's dialogue when giving directions to the Pyvern.
Soul Reaper's bat transformation is no longer overlapped by icy puddles in Polarus.
Lumareous' image has been added to the rewards screen.
The intro tutorial fight can no longer be accidentally skipped.
Added missing grass tiles to Volcanheim 6: Double-sided.
Loading zone between Volcanheim 1 and 2 fixed to prevent overlap and environment pop-in.
Descriptions for the Bulk Fist and Ninja Tabi have been adjusted.
Ignopede in Volcanheim 21: Demon's Shadow no longer spawns boss monsters; difficulty now accurate with corresponding area.
Inferndholes and Volcadillos no longer ignore wall boundaries.
Protectortle guarding Cyclord path in Volcanheim 11: Cowabunga! has been moved to give access to Volcanheim 7: Spider's Den.
Fixed an issue where Bunippy's Vortex ability on the Overworld would very rarely persist after leaving its radius.
UI elements will no longer grow or shrink to unintended sizes (dialogue Skip button, Squad buttons).
Adjusted volume of dialogue speech SFX.
Skip button now has a consistent placement across all dialogue boxes.
Music no longer cuts abruptly when showing the game's title in the intro.
Soul Reaper's eye color in his portrait picture is now accurate in the intro.
Music now plays in the tutorial fight.
Updated UI on the Soul Smithing screen to explain how to exit Percie's menu.
Several typos fixed in intro sequence.
Soul actions now have descriptions in combat.
Main theme now loops on the title screen.
Fixed an issue where one feat would keep popping up in Vipo's menu.
Cardinorcs no longer have a windbox when not animating.
Hungry Reaper no longer appears bigger than usual.
Fixed an issue with the Stabbytabby in the Offense & Defense map in Elysium.
Shadooze's power rating more accurately reflects his strength.
It's now easier to initiate combat with the Protectortle close to Jeff.
Fixed a typo in Volcanheim 7's treasure chest.
Balanced the squads found in Volcanheim 7: Spider's Den.
Fixed terrain tiles in Volcanheim 7: Spider's Den.
Made several corrections to Row Bonuses and Artifact Bonuses.
Vypo's directions to the Stalagsaurus have been improved.
Waypoints are now unlocked simply by stepping on them.
Fixed a rare issue where all monsters would be far stronger than they should be.
Soul Reaper's power level was appearing lower than what it should be.
Friskitty's passive stats have been adjusted.
Reading the type advantage wheel is now easier and more intuitive.
Buffed Undead King crown's special attribute.
Adjusted some attribute descriptions.
Adjusted Metalhead's HP Bar location.
A huge list, is it not? Well, it's all thanks to you! Many of the above changes were made based on suggestions from Soul Reaper's Steam Forum, Discord, and even the videos posted under its YouTube category! (It's been a lot of fun watching people play through Soul Reaper, and it helps us learn what adjustments we should make next!) Thank you for your continued support, and feel free to keep the feedback coming!
Learning About Loot
Last week, we hosted a mini video series focusing on loot and how it functions! While powerful souls are frequently sought after, it's important not to underestimate the value of good equipment!
Part 1: Understand how rarity influences loot pieces!
Part 2: Learn about combat drop rates!
Part 3: See what sort of loot you can get from treasure chests!
Part 4: Level up loot to get even more attributes and soul sockets!
Part 5: Know which factors influence the loot received from Percie's Soul Smithing!
Loot is extremely valuable to both the Soul Reaper and his units, so don't forget to outfit your squads with some stylish new gear when you can! Good luck, and happy treasure hunting!
Follow Us!
That about wraps things up for this update! The feedback we've been receiving continues to shape our work for the better, so please don't hesitate to share your opinion with us! Our Discord and Steam Community are the easiest ways of making your voice heard, but feel free to reach out to us via any of our social media links below! Stay tuned for further updates, and we'll see you fine folks next time!
Steam: https://store.steampowered.com/app/1163660/Soul_Reaper/
Facebook: https://www.facebook.com/powerlevelstudios/
Twitter (Studio): https://twitter.com/PowerLvlStudios
Twitter (Game): https://twitter.com/SoulReaperGame1
Instagram: https://www.instagram.com/powerlevelstudios/
Medium: https://medium.com/power-level
Discord: https://discord.gg/erupmSD
YouTube: https://www.youtube.com/channel/UCsQjuCHRCZ1w1fA88zfukhg/
GameJolt: https://gamejolt.com/@PowerLevelStudios